Admiral Comte deGrasse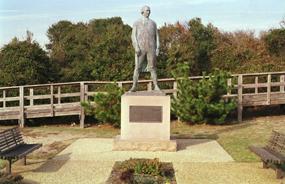 NPS
Some 174 years after English colonist first stepped foot on these shores to establish an English colony, two mighty war fleets would exchange cannon shot for about 2 1/2 hours.
On September 5, 1781, the Battle of the Capes took place just off these sand dunes. Local residents might have lined these shores to watch as French and English naval forces engaged in an epic sea battle. It is only because of Admiral deGrasse, commander of the French fleet sent to support the American cause, that the British were unable to relieve Lord Cornwallis at Yorktown. This sea battle was critical in securing America's independence from England by assuring Cornwallis was trapped at Yorktown.
Did You Know?

In 1600, the Virginia Indians who lived in present-day Virginia Beach, Norfolk, Portsmouth and Chesapeake were an Algonquian-speaking group known as the Chesapeake. They were not part of Powhatan's chiefdom and were eventually attacked and destroyed by his warriors.