Change in Harkers Island Visitor Center Hours

Harkers Island Visitor Center hours will be Monday through Friday from 9:00 a.m. until 5:00 p.m. until further notice.
Waterfowl Weekend
This annual celebration of the heritage of Down East is held at the Core Sound Museum, located next door to Cape Lookout National Seashore's Harkers Island Visitor Center. Waterfowl Weekend brings together decoy carvers, boat builders, local artists, and nonprofit organizations to share the history and culture (and food) of the Core Sound Community.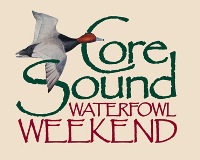 The 2012 Waterfowl Weekend will take place Saturday and Sunday, December 1-2, with a preview dinner and live auction on Friday.
Friday, November 30
6:00 PM -- Preview Party.

Saturday, December 1
9:00 AM to 5:00 PM -- Exhibits open
5:00 PM -- Live Auction

Sunday, December 2
8:00 AM -- Church Service
10:00 AM to 4:00 PM -- Exhibits open
Find more information on the Core Sound Museum website or by calling 252-728-1500 ext. 26.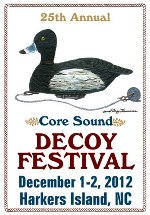 The Decoy Festival
Waterfowl Weekend is an extension of the Core Sound Decoy Festival, which has been a local tradition since 1988.
The Decoy Festival is held at the Harkers Island Elementary School. The festival hosts exhibits, retriever demonstrations, and carving competitions. FREE shuttles carry visitors between the Decoy Festival and the Waterfowl Weekend event.
Find more information on the Decoy Festival on the Core Sound Decoy Carvers Guild website.
Did You Know?

Diamond City was a shore-based whaling community located where Barden Inlet now separates the islands of Shackleford Banks and South Core Banks.  Crews would row whaling dories out from shore to chase the whales as they migrated past the island. Cape Lookout National Seashore