Cape Lookout National Seashore participates in two passport programs:
These stamps are generally collected in books created for the program or on the park's color brochure or lighthouse brochure, Junior Ranger booklets, lighthouse climbing tickets, or scrap paper.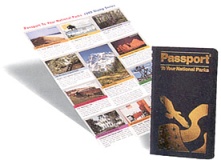 Passport to Your National Parks
This program was started in 1986 by Eastern National Parks Association with the goal of helping visitors discover the beauty and history of America's national parks.
Passport stamps can be collected at most National Park Service sites. There are two levels to the program: cancellation stamps (ink) and regional stamps (stickers).
There are six (6) cancellation stamps for Cape Lookout:
The stamps at the Harkers Island Visitor Center and at the Beaufort Visitor Information Center are available all year. The stamps at the other locations are available seasonally -- generally from about March to October/November.
Each year, Eastern National publishes a set of 10 regional stamps (stickers) featuring 10 different parks. As of 2015, Cape Lookout National Seashore has not been featured on a regional stamp.
Find more information at http://www.easternnational.org/passport.aspx.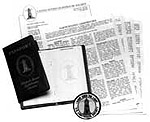 US Lighthouse Society Passport

The passports for the US Lighthouse Society program are typically blue vinyl booklets with places for 60 lighthouse stamps.

The Cape Lookout Lighthouse stamp can be collected at either the Light Station Visitor Center or the Harkers Island Visitor Center (the stamp is the same for both locations).
Learn more about this program at http://www.uslhs.org/passports.php