Cape Lookout National Seashore participates in two passport programs:
These stamps are generally collected in books created for the program or on the park's color brochure or lighthouse brochure, Junior Ranger booklets, lighthouse climbing tickets, or scrap paper.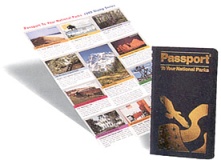 Passport to Your National Parks
This program was started in 1986 by Eastern National Parks Association with the goal of helping visitors discover the beauty and history of America's national parks.
Passport stamps can be collected at most National Park Service sites. There are two levels to the program: cancellation stamps (ink) and regional stamps (stickers).
There are three (3) cancellation stamps for Cape Lookout:
Each year, Eastern National publishes a set of 10 regional stamps (stickers) featuring 10 different parks. As of 2013, Cape Lookout National Seashore has not been featured on a regional stamp.
Find more information at http://www.easternnational.org/passport.aspx.