Horse Sense and Survival Tours
Horse Watching on Shackleford Banks at
Cape Lookout National Seashore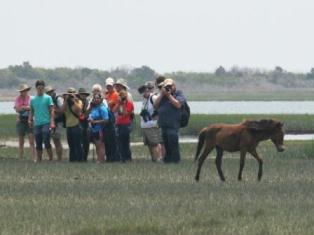 NPS Image by Felicia Nawn
Join a Park Ranger for a glimpse into the world of the wild horses of Shackleford Banks.
Reservations & information: Cape Lookout (252) 728-2250 ext. 0 and by e-mail. Call for more complete driving directions, a park site bulletin with a map, and answers to your questions.
Reservation Required with Cape Lookout National Seashore. After you make your reservation with the park, contact the ferry to make your reservation for the boat ride, unless you will be bringing your own boat. Ferry fees are priced per round trip. A limited number of spaces are available. Please be on time.
2015 Tour Dates and Times
Month
Day
Date
Departure
Location
Shackleford
Destination
Meet Time
Depart Time
Re- Board Time
Program End
June
Sat.
27
Beaufort
West end
8:45 am
9 am
1:30 pm
1:30 pm
July
Sat.
11
Harkers Island
East end
8:00 am
8:15 am
12:15 pm
12:45 pm
Sept.
Sat.
12
Harkers Island
East end
10 am
10:15 am
2:15 m
12:45 pm
Oct.
Sat.
10
Harkers Island
East end
10 am
10:15 am
1:45 pm
2:15 pm
Oct.
Sun.
25
Harkers Island
East end
9 am
9:15 am
12:45 pm
1:15 pm
Nov.
Thurs..
19
Beaufort
West end
8:45 am
9 am
12:30 pm
1:00 pm
Nov.
Sun.
22
Beaufort
West end
8:45 am
9 am
1:30 pm
2:00 pm
Ferry Fees
Adult - $15
Child (11 and under) - $8
Private Boat Transportation: If you have your own boat, there is no charge for the program. Be sure to note the Shackleford Banks meeting time & location for your trip. You must have a reservation with Cape Lookout National Seashore to participate.
Waiting Lists are kept - and used. If you have a reservation and cannot participate, please call as early as possible so someone else can have your spot.
Young People under 10 or 12 may get bored with our long periods of standing and watching and may need you to take them exploring on their own.
Leaving the Group part way through the trip to explore on your own is possible. Please tell the leader when you leave. Be ready to take yourself back to the ferry departure spot on time.
Walking Shoes: Be prepared to walk through deep sand & wet marshes and climb dune hills. The horses roam far and wide and so we'll be walking to find them.
Weather: No rain dates are scheduled; we plan to go unless the weather is too bad to boat out. You may call Cape Lookout National Seashore before 4:30 p.m. the day before your trip if the weather is chancy. In summer, be prepared for very high heat indexes -- dress in loose fitting clothes and bring extra water.
Closed Toe Walking Shoes That Can Get Wet are recommended. The horses roam far and wide so we'll be walking to find them. Be prepared to walk through deep sand, wade in salt water (in the marsh and /or from boat to shore), wade in fresh water (in rain puddles), and climb steep dune hills. You'll need protection from cactus, sand spurs, and oysters/sharp shells. Closed toe shoes are strongly advised (no flip-flops). Walking barefooted in the water is not advised. In colder months, a small towel to dry feet when changing footwear between (possibly multiple) wading episodes is helpful; you'll be carrying the 2nd pair of shoes. (You may want a change of footwear back at the car for the drive home.) We'll be pushing through prickly needlerush; between this and the bugs, some participants prefer long pants.
Staying Past the Program End may be possible; arrange your pickup time with the ferry operator the morning of the trip.
Remember to bring:
lunch & snacks

water and other drinks in a re-closable bottle

hat

sunscreen

bug repellent

rain jacket (also for spray in the boat)

binoculars

camera, telephoto lens desirable

daypack/bag to carry these items (hard sided coolers are too heavy to carry)

sturdy walking shoes -- that can get wet, salty & dirty and will protect from cactus, sand spurs & sharp oysters while wading (please, no flip-flops)

some participants prefer long pants against bugs and needlerush

in colder weather, a towel to dry feet when changing footwear between wading episodes