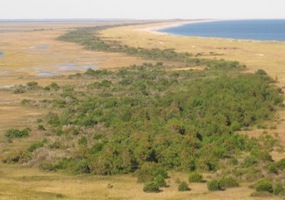 Cape Lookout National Seashore
The (False) Maritime Forest
Protected from saltspray and storms by the dunes, forested areas can sometimes be found between the marshes and the dune line. The forest on South Core Banks, however, is not a true--naturally occurring--maritime forest. Only Shackleford Banks and Harkers Island contain true maritime forests.
The softwood forest in the lighthouse area on South Core Banks was planted by volunteers from the Boy Scouts in 1950s and 1960s. Still, it provides a view of the plant and animal life found in the forest section of a natural barrier island.
The forest is a prime spot to find many biting insects including ticks and mosquitoes. Raccoons, snakes, lizards, nutria, and several species of birds are also found in these forests and, on Shackleford Banks, horses can sometimes be found among the trees.