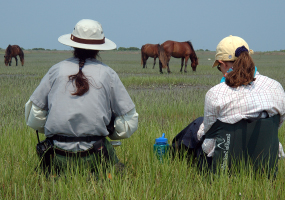 Cape Lookout National Seashore
Horse Watching Tips
Horse watching has become a popular activity at Cape Lookout National Seashore. It does not require much equipment other than binoculars, water, and hiking shoes. It can be done year round but it is more common in the summer. Unfortunately, summer brings out the bugs, so be sure to bring bug repellent as well as sun screen.
The horses can be anywhere on the island and it is not always easy to find them, but with some patience they can be found. Once a horse is seen, it is best to observe them from a distance. Like any wild animal, they usually move away if you get too close. They will also bite and kick if they feel threatened. Being able to observe their natural behavior is the goal in preserving these horses. Getting a chance to see them herding, grooming, digging for fresh water in one of the water springs, or fighting for dominance is a glimpse into their life that can be a memorable experience.
REMEMBER: horses can move amazingly fast: for your own safety and for theirs, the horses should not be approached or fed.