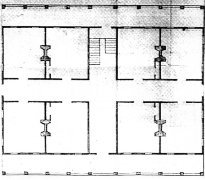 National Archives
From Hospital to Encampment
During the Civil War, the Portsmouth Marine Hospital had another purpose. It was the base and barracks for Confederate troops in the village. This camp, called Camp Washington, and Fort Ocracoke on Beacon Island were strategically positioned to defend Ocracoke Inlet.
When the Tar River Boys mutinied in the summer of 1861, they barricaded themselves in the hospital. They eventually surrendered--but only after the commanders at Fort Ocracoke and on the CSS Edwards, anchored near Ocracoke Inlet, turned their weapons towards the hospital.
Camp Washington was abandoned by Confederate troops in August of 1861. Records indicate that the hospital was used by Union troops following this evacuation, but it is unclear exactly how long they used the hospital. However, a letter by Union Brigadier-General Innis N. Palmer, written in 1964, suggests that the encampments at Ocracoke Inlet were not being used by the Union at that time.
For more information, visit the War Comes to Portsmouth webpage.