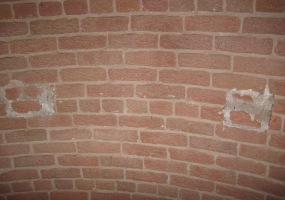 Cape Lookout National Seashore
April 2, 1864
A small group of Confederate troops under the command of L.C. Harland sneak through Union lines and out to the lighthouse. Their attempt to blow up the lighthouse is unsuccessful, however the explosion does destroy the lighthouse oil supply and damages the iron stairs.

With iron unavailable during the war, the damaged sections of the stairs are replaced by wooden ones.
1865
The Fresnel lenses from all the North Carolina lighthouses are found in Raleigh, NC The lenses are shipped back to their original manufacturers to be checked out and repaired.
1867
The temporary wooden stairs are replaced when iron once again becomes available after the war.

The original first-order Fresnel lens is reinstalled.

Congress sets the average rate of pay for the Keeper at $600 a year (about $9,700 in 2012 dollars). This wage does not change for the next 50 years.
1873
The new keeper's quarters is completed. It eventually housed two assistant keepers and their families. (This is the present Keeper's Quarters Museum.)

The lighthouse is painted with its distinctive diagonal black-and-white checkers to distinguish it as a day marker.

Mineral oil (kerosene) becomes the fuel used to ignite the lamp.
1892
Lack of confidence in shorebased lighthouses raises the recommendation for a lightship at the southern extremity of Cape Lookout Shoals. This would protect the mariner in hazy weather when a vessel might be on the shoals before seeing the Cape Lookout Lighthouse. Congress takes no action at this time.