Things To Do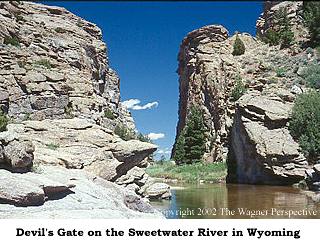 The Wagner Perspective
There are a number of ways to enjoy the California National Historic Trail, including auto-touring, visiting interpretive sites, hiking, biking or horseback riding trail segments, and visiting museums. Depending on which segment you would like to explore, some or all of these activities may be available.
Although the word "trail" is used in the name, the California NHT is not a true hiking trail. With 2,000 miles of the original route now in the hands of various private and public entities, access to trail segments depends upon the permission of the land owner. Some segments are open to the public for hiking and other means of recreation, while others are not.
Following is a list of recommended pages for visiting for the California NHT. Inquiries about segments not listed are best made locally. For more information, see the Links and Resources, Places To Go, and the pages for the Auto Tour Route driving directions.
Camping

The National Park Service does not offer any camping facilities along the trail. Inquire with local land managers (see Links and Resources page for contact information).
Short Hikes (usually less than 300 yards) to trail ruts or historic sites
Minor Park Ruts, Red Bridge Crossing of the Blue River in Kansas City, MO
Alcove Springs in Blue Rapids, KS
Rock Creek Station in Fairbury, NE
California Hill in Brule, NE
Ash Hollow State Park in Lewellen, NE
Scotts Bluff National Monument/Mitchell Pass in Gering, NE
Fort Laramie NHS/Bedlam Ruts in Fort Laramie, WY
Register Cliff/Deep Rut Hill in Guernsey, WY
Avenue of Rocks on Poison Spider Road west of Casper, WY
Independence Rock on the Sweetwater River in WY
Devils Gate on the Sweetwater River in WY
South Pass near South Pass, WY
Thompson Pass on Lander Road, WY
Massacre Rocks west of American Falls, ID on I-86
City of Rocks NP/Pinnacle Pass in Almo, ID
Grayback Hills Swale north of I-80, west of Grayback Hills in UT
Lassen Volcanic National Park, Nobles Road-Hwy 89 in northern California
Long Hikes (extensive trail segments)
South Pass Segment: Independence Rock to Parting of the Ways, 125 miles
South Pass near South Pass City, WY
Lander Road: LaBarge Creek Ranger Station to Smith's Fork, WY, approx. 10 miles
Bear River Divide Segment: US 189 to WY 89, 31 miles
Little Emigration Canyon: Mormon Flat to Big Mountain, 4.5 miles
Red Lake Pass to Carson Pass: Carson Route Hwy 88, CA
4x4 and Horse Access (extensive trail segments)
Oregon Trail Road: Mills, WY to WYO-220 just north of Independence Rock, 41.5 miles
South Pass Segment: Independence Rock to Parting of the Ways, 125 miles
Lander Road: Burnt Ranch, WY to Fort Hall, ID, approx. 250 miles
Parting of the Ways: end of the South Pass segment
Bear River Divide Segment: US 189 to WY 89, 31 miles
Fort Bridger to Muddy Creek: approx. 14 miles
Skull Valley UT Segment: Timpi Spring to Aragonite Exit on I-80, approx. 45 miles
California Trail Backcountry Byway: Goose Creek to Hwy 93, in northeast NV, approx. 50 miles
Trail Museums
Did You Know?
After struggling across nearly 100 miles of salt flats and soft, wet sand in Utah's Great Salt Lake Desert in the late summer of 1846, the Donner-Reed wagon train reached the Silver Mountains and fresh water just north of this location along Interstate 80 near the Nevada/Utah border. More...