Choose one of the following or scroll down the page: GIS Interactive Map - Auto Tour Route Highway Map
A color, topographical map of the entire California NHT is available as an Acrobat PDF document (744kb). Since the 2,000-mile long trail covers seven states, from Missouri to California, this map measures approximately 46" x 9".

The printed, color brochure for the California NHT includes this map. To request the brochure, contact us at:
National Trails Intermountain Region
National Park Service
324 South State Street, Suite 200
Salt Lake City, Utah 84111
e-mail us
Driving directions for following the California NHT by automobile are available using the links above and the left-hand navigation links. Auto Tour Route (ATR) highway signs have been installed along modern-day roads that parallel the historic route as closely as possible. Directions are listed from east to west.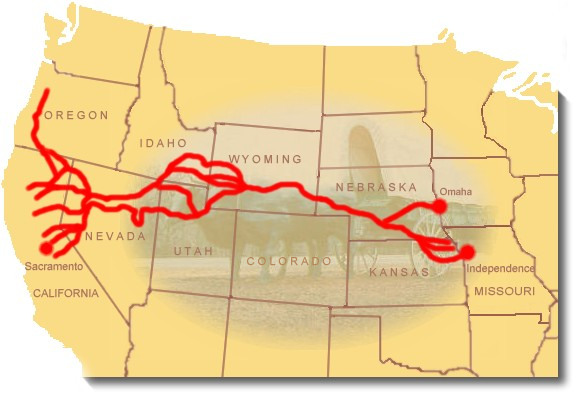 US NPS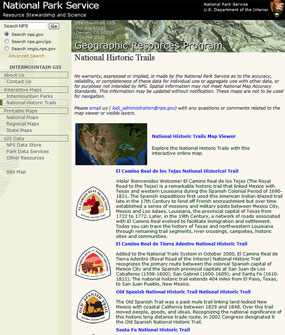 GIS Interactive Map
The National Park Service Geographic Resources Program hosts an interactive trails map viewer. Choose the Santa Fe National Historic Trail and then zoom in to find the details you need for trip planning.
Click here for the interactive trails
map viewer.
Tip: There are menu options at the top right and top left of the map viewer.

The top right menu allows you to look at the trail overlaid on street, topographic, or imagery maps. The top left menu lists functions you can give to the map - measure distance, make a printable map, and more.