New Off Road Vehicle Regulations

New off road vehicle (ORV) regulations are now in effect. Please check here for information on how to get your ORV permit More »
Beach Fire Permits are required

Beach Fire Permits are now required. These permits are free. Please check here for information on how to get your Beach Fire Permit More »
Plan Your Visit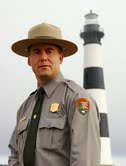 Welcome to the National Park Service Outer Banks Group - Cape Hatteras National Seashore, Fort Raleigh National Historic Site, and Wright Brothers National Memorial!
There is much here for you to enjoy as you discover the unique natural, cultural, and recreational opportunities offered, preserved, and protected by the National Park Service on North Carolina's Outer Banks.
Swimming, crabbing, surf fishing, surfing, shell collecting, bird and wildlife watching, sightseeing - we have this and more. By foot, bicycle or vehicle, I urge you to explore our national parks and create lasting memories for yourself and your family to be treasured in years to come. These dynamic barrier islands and their diverse habitats offer many exceptional experiences.
The national park sites on the Outer Banks are great places to become acquainted with the human events representative of the finest that this country has to offer - the dedication of the U.S. Lifesaving Service, the courage of early English colonists, and the inspiration and commitment of two young brothers from Ohio. Our parks provide a window through which to glimpse and touch the fabric of our national heritage.
Whether it's active recreation, immersion into the natural world, or intellectual stimulation that you seek, National Park Service Rangers are here to assist you in having an enjoyable and safe experience. We look forward to seeing you out in the parks!
Barclay Trimble
Superintendent

Did You Know?

When the Home sank on Diamond Shoals off of Cape Hatteras in 1837, there were only two life jackets for all 130 people on board.  Ninety people died.

Congress passed the Steamboat Act the next year, requiring all vessels to carry one life jacket per passenger.