NPS Youth Conservation Corps Assist with Oyster Sill Restoration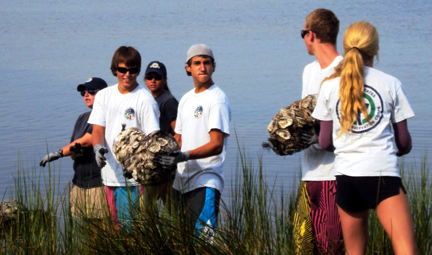 NPS Photo
Date:
July 29, 2010
Contact:
Cyndy Holda, 252-473-2111 x148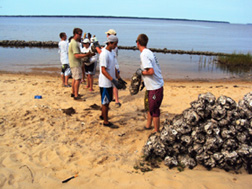 NPS Photo
The National Park Service Youth Conservation Corps (YCC) crew recently participated in valuable work with several local land management entities on a hot and humid July day. The local youths welcomed the opportunity to perform valuable work in the cool waters of the Roanoke Sound by assisting staff from Jockey Ridge State Park, The Nature Conservancy, North Carolina Coastal Federation and Division of Marine Fisheries with an oyster sill construction project. 
The National Oceanic Atmospheric Administration (NOAA) and Southeast Aquatic Resources Partnership (SARP) grant funded restoration project, located on the soundside shoreline of Jockey Ridge State Park, is one of many on-going local efforts to not only restore healthy and productive oyster beds to local waters but also aid in marsh enhancement and shoreline stabilization. The installation of bagged oyster shells creates a sill and is the second phase of the project. Later this fall, native marsh grasses will be planted to assist in natural stabilization of the shoreline.
Superintendent Mike Murray stated, "YCC Group Leader Stacey Hodnett has found a way to contribute to a worthwhile local effort as well as infuse that youthful energy and drive into many projects for her crew this summer. The oyster sill restoration project proved to be a productive morning for everyone. Their work provides a valuable service to the community."
Since its inception in 1970, the YCC program has become one of the most recognized federal summer work youth programs in the country. It provides not only employment, but also an opportunity to gain a greater appreciation for and understanding of America's environmental and historic heritage.