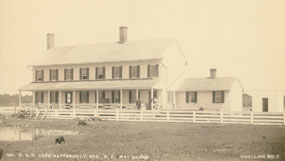 NPS
Living at the Light Station
Today, the Double Keepers' Quarters (1854) and the Principal Keeper's Quarters (1871) remind us that the Cape Hatteras light station was more than simply a duty station. It was home to families and myriad pets and livestock. The keepers' families had to be self-sufficient. They grew much of their own food, kept livestock, and relied on rainwater collected in cisterns for washing and drinking.
The families at Cape Hatteras were lucky in many ways for they were not as isolated as other lighthouse families - on the grounds lived many people; nearby were the life-saving stations and their families; and down the road was the town of Buxton. The lighthouse's last principal keeper, Unaka Jennette, was a native of Hatteras Island and was promoted to the position in 1919. He and his wife, Sudie, raised a family of seven at the station from 1919-1936. Their middle child, Rany, said in his oral history that their childhood was anything but the stereotypical isolated existence of a lighthouse keeper. He recalled that the light station was often the focal point of the community, particularly during the summer months when the sea breezes didn't reach into the woods where the native islanders lived. Rany remembered baseball, football, and "very competitive games of croquet" on the lighthouse grounds. He also recalled one Sunday afternoon when he and his father climbed the lighthouse 17 times to show visitors and friends.