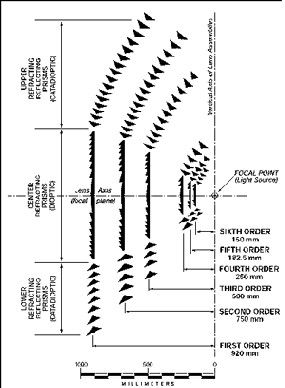 Fresnel lenses are divided into different sizes, called orders. The first order lens is the largest and most powerful. It can be 12 feet in height and more than 6 feet in diameter. Used primarily as a seacoast light, its beam is visible over twenty miles out to sea. The sixth order is the smallest lens, being only about one foot wide and used in harbors and channels.
The genius of Fresnel's invention is that it improved existing lights on several fronts—brightness, distance, efficiency and recognition. Because of these technical advancements, it is easy to overlook the beauty of the lens itself. It is truly a work of art. Most Fresnel lenses contain hundreds of glass prisms which were painstakingly ground, cut, and polished. They sparkle like jewels when lit at night.
Augustin Fresnel's work on lighthouse optics earned him a prestigious award from the French Academy of Science and his superior lens was soon installed in lighthouses all over Europe. His invention, however, took some time to reach the United States. In the meantime, ships sailing through the dangerous waters off the Outer Banks learned firsthand why the area is called the "Graveyard of the Atlantic". Powerful currents, hidden shoals, and unrelenting storms made navigation extremely challenging and contributed to thousands of shipwrecks in these waters. The existing lighthouses were ineffective and instead of saving lives, were often putting them at risk. One frustrated ship's captain described the Cape Hatteras Lighthouse as "a disgrace to our country." Another claimed to never have seen it in nine trips down the coast. Many captains argued that it would be better to eliminate the lighthouses altogether rather than risk their ships searching for the dim towers. Finally, to the relief of many mariners, the Fresnel lens made its way to the Outer Banks. By 1859, almost all of the North Carolina's lighthouses were equipped with Fresnel lenses.