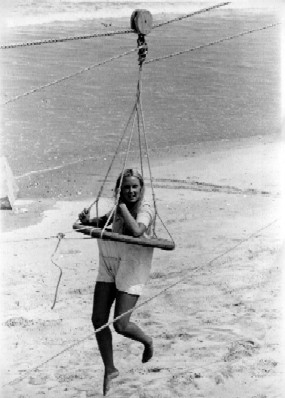 NPS
The beach apparatus or breeches buoy was a fairly common rescue technique utilized by the US Life-Saving Service on the Outer Banks since so many of the shipwrecks occurred near or on the beach or in seas that prohibited the use of the surfboat. To effectively use the breeches buoy took skill and timing. Surfmen practiced it in their Beach Apparatus Drill each week. Each man had to know exactly what to do at the proper time or the entire rescue would become a disaster.
The first step was to send a line, called the shot line, out to the shipwreck, using a projectile fired from a line-throwing gun known as the Lyle gun. With its wooden carriage, the Lyle gun weighed almost 200 pounds and had to be taken out to the shipwreck in the beach cart along with all the other required equipment. This gun could fire a 20 pound metal projectile with a line attached to it up to 400 yards. It was aimed simply by line of sight and elevated by a stepped wooden block called a quoin.
The idea was to establish an initial means of communication with the wreck so that equipment could then be sent out and the breeches buoy rigged up. This was not as easy as it might sound, however. Wind, rain, snow, fog, darkness, and the wreck's position could all affect the accuracy of the shot and, even if the line reached the target, it could still become entangled in the debris. It often took several shots to achieve success but sometimes the conditions were simply too severe. The lifesavers were then forced to wait until conditions improved enough for a successful shot or until a boat could be launched.