Cape Hatteras National Seashore Needs You!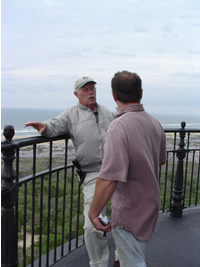 We need your time and your talents…as a volunteer. Interested in meeting people from all over the world? Want to learn about the history of lighthouses and life-saving stations? Do you like sharing what you know with an interested audience? Want to help the sea turtles? Would enjoy working in an office with an amazing view? Then you should become a National Park Service VIP (Volunteer-In-Parks) at Cape Hatteras National Seashore. You can learn about volunteering by calling Volunteer Coordinator Nicole Loiseau at 252-475-9042.
---
Volunteering at the National Park Service Outer Banks Group
At the National Park Service Outer Banks Group, 133 volunteers who donated 16,119.5 hours in 2014 work side-by-side with National Park Service employees at Fort Raleigh National Historic Site, Wright Brothers National Memorial and Cape Hatteras National Seashore. Community VIPs may work on weekdays, weekends, mornings, or afternoons with a minimum of four hours per week. Volunteers provided park housing or a trailer pad work a minimum of 32 hours per week for 6 weeks. The schedule and amount of time worked will be negotiated. Training for all duties is provided. Uniforms are provided for volunteers who work with the public. Volunteer to be a part of our staff, which serves over 3 million visitors each year!
Current Volunteer Opportunities