Visitor Center Rennovations

Park is having major electrical and heating/cooling system work done. The Visitor Center will be closed until late June but restrooms, movie auditorium, historic ruins area, and picnic area will remain open (no fees or pass sales during rennovation).
Guided Tours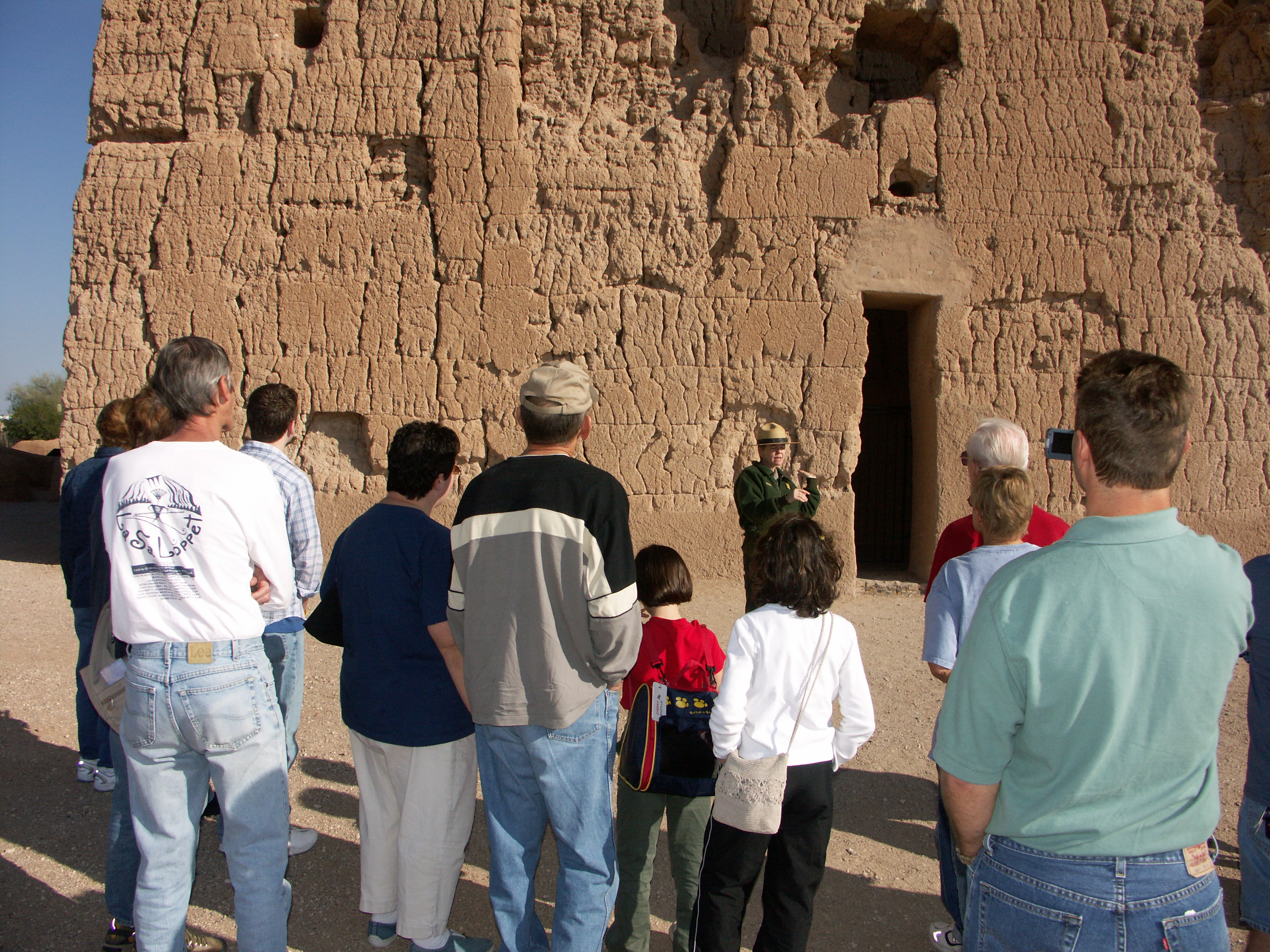 NPS
Guided tours are offered nearly hourly from late November to mid-April. Tours meet in the shaded Interpretive Ramada located immediately outside of the visitor center's rear doors. While you are seated for the introduction the guide will explain the history of the ruins, the archeology, and the Hohokam Culture. Your guide, either ranger or trained volunteer, will then lead the tour into Compound A and point out interesting features. You may enter or leave the tour at any point, or you may chose to visit the park on a self-guided tour. There are signs and exhibits to enhance your visit with volunteers and staff eager to hear your stories and discuss your questions. Tours are wheelchair friendly.
Guided tours in May through October are offered as staffing, weather, high temperatures, and group size permit. Please ask or read postings at the front visitor center information desk to learn about tours, special events, or guest speakers featured on the day of your visit.
No tours enter the Great House due to safety and resource protection concerns.
There are no additional fees for guided tours. Special tours such as backcountry archeology walks are offered in the spring. Please contact the park in advance as these programs fill quickly.
Access for All

Unlike builders in the past we try to maintain our park so people of all backgrounds and abilities can enjoy a visit. The main areas of the park and picnic area are level and hard surfaced, something we all can appreciate. Read More

Prepare Yourself for Conditions

The sun, wind, and even occasional rain, are all blessings of the desert. Too much of a good thing is as bad as too little, however, and we remind you to be prepared. Read More

Responsible Pet Owners Welcome

Your beloved pet is welcome in the park, as long as both you and pet are well behaved. Protecting park resources and ALL park visitors is a prime concern, otherwise come enjoy... Read More
Did You Know?

Burrowing owls are unique among birds because they nest underground in existing ground squirrel, coyote, and badger burrows. They are also commonly associated with humans and will frequently nest in burrows along irrigation ditches, canals, and even in people's yards.