Access to the Coast Guard Beach in Eastham will be closed Tuesday, May 21.

Access to the Coast Guard Beach in Eastham will be closed Tuesday, May 21, from 6:00 AM to 3:00 PM so seashore staff can create an accessible path in advance of the summer season.
Storm damage, construction affecting access at seashore locations; reduction in programming

Due to erosion, there is no beach access at Nauset Light and Marconi beaches. Access at the Marconi Site is limited. Parts of the Nauset Marsh and Red Maple Swamp trails are closed. Nauset Bike Trail construction is underway. More »
Ranger-Guided Activities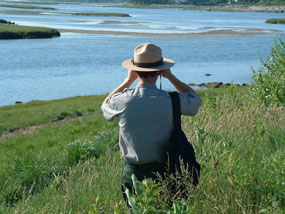 Reductions in Ranger-Guided Programs Due to Budget Cuts
Due to the mandatory, across-the-board budget cuts, and the resulting loss of 12 seasonal interpretive rangers at Cape Cod National Seashore, ranger-guided programs are severely reduced in 2013. Reductions will begin in spring and continue through the fall.
The programs that will be offered are those that are provided by volunteers and partners, such as tours at historic buildings, occasional nature walks, and some children's programs. The programs that will be offered by park rangers are canoe trips that are self-supporting through fees. The popular Thursday evening Beach Apparatus Drill at Old Harbor Life-Saving Station and the Tuesday night programs at Salt Pond will be offered in July and August.
Thanks to a generous donation by Friends of the Cape Cod National Seashore, the Province Lands Visitor Center is open from May 25 through September 2, 2013. This donation is funding the rangers who provide important interpretive, orientation, safety, and resource protection information at the center.
The six Cape Cod National Seashore beaches will be open with lifeguards, and the oversand corridor in Provincetown will also be open. These operations are funded by user fees and therefore, are not subject to budget cuts.
Ranger-guided activities May 1 through 24, 2013
Ranger-guided activities, May 25 through June 30, 2013

In most cases, a group size greater than 8 may not participate in programs offered to the general public, unless the programs are suitable for large groups such as park films, campfire programs, auditorium, and amphitheater programs.
Did You Know?

In 1903, Guglielmo Marconi transmitted the first transatlantic wireless message from the United States to Great Britain from Cape Cod.