Access at seashore locations

The stairs at Nauset Light Beach in Eastham are closed due to storm damage. Herring Cove North Lot in Provincetown sustained damage resulting in closure of multiple parking spaces. The Nauset Marsh Trail bridge was destroyed in a 2012 storm. More »
Ranger-Guided Activities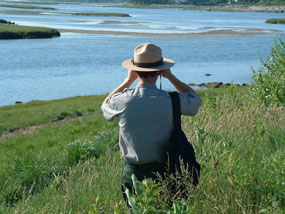 February Activities
Into the Wild: Exploring How People Interact with Landscapes and Nature—Both Real and Imagined
Cape Cod National Seashore will kick off its annual winter film festival on Sunday, January 19 with the blockbuster film, Dances with Wolves. Each winter a different theme or genre is explored, and this year's focus is how people interact with landscapes and nature - both real and imagined. Films will show on six consecutive Sundays at 1:30 PM on the theatre-size screen at Salt Pond Visitor Center in Eastham. Refreshments will be provided 30 minutes prior to each film. The movies are free, thanks to generous funding from Friends of the Cape Cod National Seashore.

In most cases, a group size greater than 8 may not participate in programs offered to the general public, unless the programs are suitable for large groups such as park films, campfire programs, auditorium, and amphitheater programs.
Driving directions to program locations in Eastham and Wellfleet

Did You Know?

The original Highland Light was built in 1797, becoming the first lighthouse on Cape Cod in Massachusetts. It had 24 whale oil lamps set in 2 circles, one on top of the other with the reflector behind.