Visitor Center Scheduled to be Closed Until Mid to Late July

The Visitor Center is undergoing a Seismic Retrofit. Visitors will still be able to access the Auditorium, Ballast View and the East Patio. These dates are subject to change. Please call 619 557-5450 for updated information
Public Transportation
The San Diego Metropolitan Transit System (MTS) offers bus service throughout the county, including hourly stops daily at Cabrillo National Monument via Routes 28 and 84C. For added convenience, the bus stop is located right at the Visitor Center complex.
Taking the bus to the park is a great choice to reduce congestion and pollution, and a relaxing way to enjoy the scenic road on top of Point Loma. Please note that the bus does not go to the tidepool area on the west side of the park.
For more information on Routes 28 and 84C, click here to access the Metropolitan Transit System website.


Did You Know?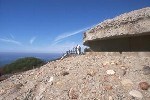 Did you know that in World War II, the Japanese Navy was ordered to avoid San Diego because of the coastal defense systems in place, some of which can still be seen today within Cabrillo National Monument?