Military History Building Closed until March 10, 2014

The Military History Building is undergoing a Seismic Retrofit (Earthquake Safety) and will be closed through 3/10/14. We apologize for this inconvenience.
Interior of Lighthouse Will Be Closed for Seismic Retrofit

The Lighthouse is undergoing a Seismic retrofit (earthquake safety). It is still open to the public, while the basement is worked on. The interior of the lighthouse will be closed once the basement is completed. Please call (619) 557-5450 for info.
Public Transportation
The San Diego Metropolitan Transit System (MTS) offers bus service throughout the county, including hourly stops daily at Cabrillo National Monument via Routes 28 and 84C. For added convenience, the bus stop is located right at the Visitor Center complex.
Taking the bus to the park is a great choice to reduce congestion and pollution, and a relaxing way to enjoy the scenic road on top of Point Loma. Please note that the bus does not go to the tidepool area on the west side of the park.
For more information on Routes 28 and 84C, click here to access the Metropolitan Transit System website.


Did You Know?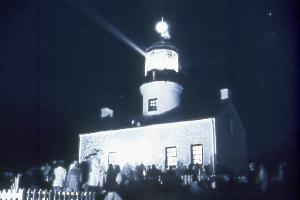 Did you know that the light from the Old Point Loma Lighthouse at Cabrillo National Monument could be seen by mariners 39 miles out to sea?