Lighthouse Will Be Closed for Seismic Retrofit April 7 through May 16

The Lighthouse is undergoing a Seismic retrofit and will be closed from April 7 - May 16. Visitors can still access the Assistant Keepers Quarters exhibit from the south door, Lighthouse Comfort Station, and Kelp Forest Overlook. Call 619-557-5450.
Visitor Center Scheduled to be Closed May 19 through June 16

The Visitor Center will be undergoing a Seismic Retrofit and will be closed. Visitors will still be able to access the Auditorium, Ballast View and the East Patio. These dates are subject to change. Please call 619 557-5450 for updated information
National Parks Week

Come Join us during National Parks Week April 19-27. You can see the schedule here. More »
Outdoor Activities
With plenty of sunshine year round, it's easy to enjoy outdoor activities in San Diego and at Cabrillo National Monument during any time of the year. Each month, the City basks in an average of 68% sunny days, and the typical temperature will be just over 70 degrees, even during the winter.
Some of the outdoor activities you can enjoy while at Cabrillo National Monument:
Hiking – The Bayside Trail is a scenic 2-mile trail that takes you through a prime example of endangered coastal sage scrub habitat
Birding
Photography
Whale watching (during winter months)
Tidepooling (during winter months)
Enjoying the native plants (year round) and wildflowers (during the spring and summer months)
Bicycling along Cabrillo Memorial Drive
Watching ships cruise in and out of San Diego Harbor
Taking in the nearly-360 degree view of the City of San Diego, Pacific Ocean, Mexico, and the surrounding mountains to the north and east
Solitude
Click here to visit the San Diego Convention and Visitors Bureau website to find out what the weather will be like during your visit.


Did You Know?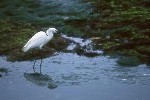 Did you know that over 200 species of birds have been recorded at Cabrillo National Monument, including land, shore, and sea birds.