Memorial Services
DOWNLOAD AN APPLICATION
To hold a memorial service or scatter ashes of a loved one at the Coastal View area of Cabrillo National Monument, download an application here.
FOR MORE INFORMATION
To learn more about memorial services, please contact:
Neil_Heller

@nps.gov
(619) 523-4577

Marty_Lane@nps.gov

(619) 523-4568

Ralph_Jones@nps.gov

(619) 523-4563

Did You Know?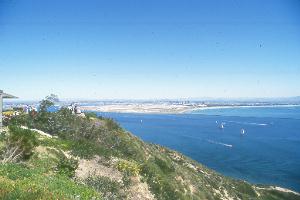 Did you know that Cabrillo National Monument boasts one of the best harbor views in the world? On clear winter days, you can experience a panorama that stretches from Mexico to the snow-capped mountains east of Los Angeles.