Cabrillo National Monument Theater Closed on Selected Dates

Due to National Park Service alternate uses, the Cabrillo National Monument theater will be closed to the public on the following dates: September 20, September 27, October 28 - 29, November 6, 2014. We are sorry for the inconvenience.
Memorial Services
DOWNLOAD AN APPLICATION
To hold a memorial service or scatter ashes of a loved one at the Coastal View area of Cabrillo National Monument, download an application here.
FOR MORE INFORMATION
To learn more about memorial services, please call (619)557-5450 extension 4577 or extension 4566.
You can also email us.
Did You Know?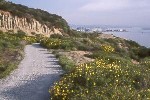 Did you know that the coastal sage scrub habitat found at Cabrillo National Monument is one of the most endangered ecosystems in the world? Only 10-15% of the original habitat now exists. Once the dominant ecosystem, the coastal sage scrub community now only exists in small remnant pockets.