Lighthouse Will Be Closed for Seismic Retrofit April 7 through May 16

The Lighthouse is undergoing a Seismic retrofit and will be closed from April 7 - May 16. Visitors can still access the Assistant Keepers Quarters exhibit from the south door, Lighthouse Comfort Station, and Kelp Forest Overlook. Call 619-557-5450.
Visitor Center Scheduled to be Closed May 19 through June 16

The Visitor Center will be undergoing a Seismic Retrofit and will be closed. Visitors will still be able to access the Auditorium, Ballast View and the East Patio. These dates are subject to change. Please call 619 557-5450 for updated information
Plan Your Visit
ACTIVITIES
Activities at Cabrillo National Monument are as varied as the resources:
• Who was Juan Rodriguez Cabrillo? Find out more about the 16th century explorer that the park is named for.
• Hiking: The two-mile Bayside Trail affords spectacular views of San Diego Bay and the city beyond, and takes you through one of the last remaining remnants of coastal sage scrub habitat in the world. The Coastal Tidepool Trail provides views along the ocean leading to the tide pools. Also learn about the Dusty Socks Club hiking trips around San Diego County.
• Tidepooling: The rocky intertidal area at Cabrillo National Monument is one of the best protected examples of these unique ecosystems in Southern California.
• Visiting the Lighthouse: Be sure to see the Old Point Loma Lighthouse, one of the original eight lighthouses on the West Coast, restored and refurnished to reflect what life was like in the 1800s. In the adjacent Assistant Keeper's Quarters, interactive exhibits tell the story of the Lighthouses of Point Loma. You can learn about the Lighthouses of Cabrillo here.
• Military History: In an historic radio station building, the exhibit "They Stood the Watch" presents the military history of Fort Rosecrans.
• Whale Watching: Experience the annual migration of the Pacific Gray Whale as these majestic mammals pass by the park from December through February. Here is a link to help you learn how to watch for whales at Cabrillo.
VISITOR CENTER
The Visitor Center is a good place to start your day at Cabrillo National Monument. The "Age of Exploration" exhibit, films, and ranger-guided programs present interesting insights into the history of Cabrillo, and rangers and volunteers are available to offer suggestions on what to see. Films are scheduled on the hour:



| | | |
| --- | --- | --- |
| TIME | PROGRAM | LENGTH |
| 10:00 AM | In Search of Cabrillo | 25 Minutes |
| 11:00 AM | On the Edge of Land and Sea | 20 Minutes |
| 12:00 PM | First Breath: Gray Whales | 25 Minutes |
| 1:00 PM | On the Edge of Land and Sea | 20 Minutes |
| 2:00 PM | In Search of Cabrillo | 25 Minutes |
| 3:00 PM | First Breath: Gray Whales | 25 Minutes |
| 4:00 PM | In Search of Cabrillo | 25 Minutes |


Did You Know?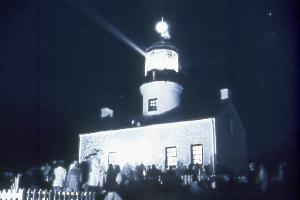 Did you know that the light from the Old Point Loma Lighthouse at Cabrillo National Monument could be seen by mariners 39 miles out to sea?