Lighthouse Will Be Closed for Seismic Retrofit April 7 through May 16

The Lighthouse is undergoing a Seismic retrofit and will be closed from April 7 - May 16. Visitors can still access the Assistant Keepers Quarters exhibit from the south door, Lighthouse Comfort Station, and Kelp Forest Overlook. Call 619-557-5450.
Visitor Center Scheduled to be Closed May 19 through June 16

The Visitor Center will be undergoing a Seismic Retrofit and will be closed. Visitors will still be able to access the Auditorium, Ballast View and the East Patio. These dates are subject to change. Please call 619 557-5450 for updated information
Operating Hours & Seasons
WE'RE OPEN 364 DAYS OF THE YEAR
Cabrillo National Monument is open 364 days a year, from 9:00 AM to 5:00 PM - we are closed Christmas Day, December 25. Please note the following facility closing times:
| | |
| --- | --- |
| FEATURE OR FACILITY | CLOSING TIME |
| Assistant Keepers Quarters Exhibit | 5:00 PM |
| Bayside Trail | 4:00 PM |
| Bookstore | 5:00 PM |
| Cabrillo and the Age of Exploration Exhibit | 5:00 PM |
| Lighthouse | 5:00 PM |
| Military History Exhibit | 5:00 PM |
| Tidepools | 4:30 PM |
| Entrance Station | 4:55 PM |
| Visitor Center | 5:00 PM |
5:00 PM Park Closure
Please note: The main gate into Cabrillo National Monument closes at 4:55 PM, and all visitors must exit the park at 5:00 PM. Public access after 5pm and before 9am is not allowed. This includes walking, jogging, biking or any type of entry is not allowed.
Thank you for your understanding. If you have any questions, please feel free to email us.


Did You Know?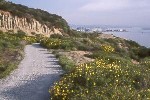 Did you know that the coastal sage scrub habitat found at Cabrillo National Monument is one of the most endangered ecosystems in the world? Only 10-15% of the original habitat now exists. Once the dominant ecosystem, the coastal sage scrub community now only exists in small remnant pockets.