Military History Building Closed until March 10, 2014

The Military History Building is undergoing a Seismic Retrofit (Earthquake Safety) and will be closed through 3/10/14. We apologize for this inconvenience.
Interior of Lighthouse Will Be Closed for Seismic Retrofit

The Lighthouse is undergoing a Seismic retrofit (earthquake safety). It is still open to the public, while the basement is worked on. The interior of the lighthouse will be closed once the basement is completed. Please call (619) 557-5450 for info.
Your Dollars At Work
Your Dollars Make a Big Difference
Did you know that when you come to Cabrillo National Monument, 80% of your entrance fee stays right here to fund projects to improve visitor use and enjoyment, education, safety, and preservation of the park?
We've done a lot with your entrance fees - take a look at some recent and upcoming projects that show your dollars at work.
The park's existing Whale Overlook was built in the 1950s and was among the first interpretive facilities on the West Coast dedicated to watching the annual migration of the Pacific gray whales. Its presence established Cabrillo National Monument as the premier location for land-based whale watching in Southern California. Visitors from around the U.S. and the world vacation in San Diego during the winter months, and over 300,000 people come to the park between December and February to watch migrating whales.
The years have taken a toll on the Whale Overlook, however, and it's time for the existing inadequate and deteriorating structure to be replaced. The new Whale Overlook will include sheltered viewing spaces from which to watch the whale migration and offshore activities. It will also provide improved access for disabled visitors, an area for rangers to conduct programs for school groups and adult visitors, and replace interpretive exhibits.
A major portion (87%) of the $1.3 million project will be funded through entrance fees collected here at the park. We thank you for your support of Cabrillo National Monument, and for making visitor enhancements such as the new Whale Overlook a reality.
For a look at conceptual drawings of the new Whale Overlook, click here (pdf).


Did You Know?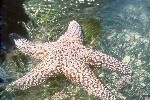 Did you know that delicate-looking tidepool creatures at Cabrillo National Monument are actually very hardy, and have adapted well to harsh conditions of pounding surf, intermittent exposure to sun and drying wind, and sharp changes in temperature and salinity?