Cabrillo National Monument Theater Closed on Selected Dates

Due to National Park Service alternate uses, the Cabrillo National Monument theater will be closed to the public on the following dates: October 28 all day, October 29 9am-12pm, November 6, 2014 12pm-5pm. We are sorry for the inconvenience.
Your Dollars At Work
Your Dollars Make a Big Difference
Did you know that when you come to Cabrillo National Monument, 80% of your entrance fee stays right here to fund projects to improve visitor use and enjoyment, education, safety, and preservation of the park?
We've done a lot with your entrance fees - take a look at some recent and upcoming projects that show your dollars at work.


Did You Know?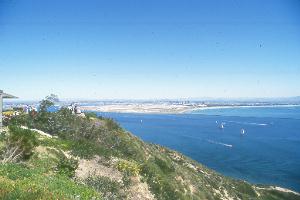 Did you know that Cabrillo National Monument boasts one of the best harbor views in the world? On clear winter days, you can experience a panorama that stretches from Mexico to the snow-capped mountains east of Los Angeles.