Your Dollars At Work
Your Dollars Make a Big Difference
Did you know that when you come to Cabrillo National Monument, 80% of your entrance fee stays right here to fund projects to improve visitor use and enjoyment, education, safety, and preservation of the park?
We've done a lot with your entrance fees - take a look at some recent and upcoming projects that show your dollars at work.


Did You Know?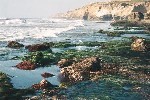 Did you know that the tidepools at Cabrillo National Monument are one of the last and best-preserved rocky Intertidal areas open to the public in Southern California?