Lighthouse Will Be Closed for Seismic Retrofit April 7 through May 16

The Lighthouse is undergoing a Seismic retrofit and will be closed from April 7 - May 16. Visitors can still access the Assistant Keepers Quarters exhibit from the south door, Lighthouse Comfort Station, and Kelp Forest Overlook. Call 619-557-5450.
Visitor Center Scheduled to be Closed May 19 through June 16

The Visitor Center will be undergoing a Seismic Retrofit and will be closed. Visitors will still be able to access the Auditorium, Ballast View and the East Patio. These dates are subject to change. Please call 619 557-5450 for updated information
National Parks Week

Come Join us during National Parks Week April 19-27. You can see the schedule here. More »
Our Partners
The Cabrillo National Monument Foundation (CNMF) is a private nonprofit organization which provides support for special projects at Cabrillo National Monument. CNMF has helped the National Park Service with numerous educational and scientific activities at Cabrillo National Monument. The Foundation has published several award winning books on historic and scientific topics relating to the Monument. Revenue for these projects comes through donations, memberships and sales of publications and other educational items. Click here to learn more about Cabrillo National Monument Foundation.


Did You Know?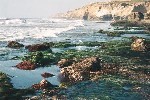 Did you know that the tidepools at Cabrillo National Monument are one of the last and best-preserved rocky Intertidal areas open to the public in Southern California?