Cabrillo National Monument Theater Closed on Selected Dates

Due to National Park Service alternate uses, the Cabrillo National Monument theater will be closed to the public on the following dates: September 20, September 27, October 28 - 29, November 6, 2014. We are sorry for the inconvenience.
Our Partners
The Cabrillo National Monument Foundation (CNMF) is a private nonprofit organization which provides support for special projects at Cabrillo National Monument. CNMF has helped the National Park Service with numerous educational and scientific activities at Cabrillo National Monument. The Foundation has published several award winning books on historic and scientific topics relating to the Monument. Revenue for these projects comes through donations, memberships and sales of publications and other educational items. Click here to learn more about Cabrillo National Monument Foundation.


Did You Know?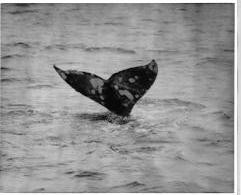 Did you know that Pacific Gray Whales were nearly hunted to extinction? They now number about 25,000, thanks in part to full protection by the International Whaling Commission.