A Voyage of Discovery at Cabrillo National Monument
Climbing out of his boat and onto shore in 1542, Juan Rodriguez Cabrillo stepped into history as the first European to set foot on what is now the West Coast of the United States. In addition to telling the story of 16th century exploration, the park is home to a wealth of cultural and natural resources. Join us and embark on your own Voyage of Discovery. 

Did You Know?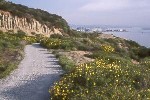 Did you know that the coastal sage scrub habitat found at Cabrillo National Monument is one of the most endangered ecosystems in the world? Only 10-15% of the original habitat now exists. Once the dominant ecosystem, the coastal sage scrub community now only exists in small remnant pockets.