Military History Building Closed until March 10, 2014

The Military History Building is undergoing a Seismic Retrofit (Earthquake Safety) and will be closed through 3/10/14. We apologize for this inconvenience.
Interior of Lighthouse Will Be Closed for Seismic Retrofit

The Lighthouse is undergoing a Seismic retrofit (earthquake safety). It is still open to the public, while the basement is worked on. The interior of the lighthouse will be closed once the basement is completed. Please call (619) 557-5450 for info.
A Voyage of Discovery at Cabrillo National Monument
Climbing out of his boat and onto shore in 1542, Juan Rodriguez Cabrillo stepped into history as the first European to set foot on what is now the West Coast of the United States. In addition to telling the story of 16th century exploration, the park is home to a wealth of cultural and natural resources. Join us and embark on your own Voyage of Discovery. 

Did You Know?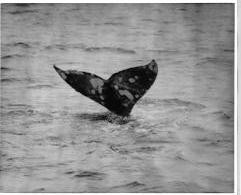 Did you know that Pacific Gray Whales can dive to more than 200 feet and can stay underwater for as long as 20 minutes?