Administrative History of Cabrillo National Monument
Written by Susan Lehmann, An Embarrassment of Riches: The Administrative History of Cabrillo National Monument is a thorough, well documented history covering the changing administration, use, and image of the monument from its inception to the mid-1980s. Relationships with other agencies and the local community receive particular attention.
Originally published in 1987 by Cabrillo Historical Association (now Cabrillo National Monument Foundation).
Click here to download.
Did You Know?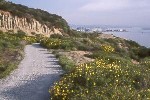 Did you know that the coastal sage scrub habitat found at Cabrillo National Monument is one of the most endangered ecosystems in the world? Only 10-15% of the original habitat now exists. Once the dominant ecosystem, the coastal sage scrub community now only exists in small remnant pockets.