Bryce Point to Peekaboo Connector Trail Closure

Due to a large rockslide, the connecting trail from Bryce Point to Peekaboo Loop is closed. Trail will be reopened once repairs are made. The Peekaboo Loop is open, but must be accessed from Sunset or Sunrise Point.
Backcountry Campsite Closures

Due to bear activity at select campsites in Bryce Canyon's backcountry, multiple backcountry campsites have been closed until further notice: Sheep Creek, Swamp Canyon, Natural Bridge, Iron Spring, Corral Hollow, Riggs Spring and Yovimpa Pass.
Visitor Center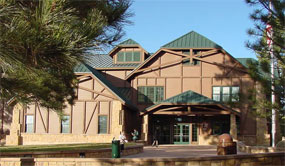 NPS
The Bryce Canyon Visitor Center should be one of your first stops when visiting Bryce Canyon National Park. Here you can obtain driving and hiking directions beyond those available on this website, weather forecasts, a current schedule of Park Ranger guided programs, Junior Ranger booklets, and information on area services including lodging, dining and other attractions.
While at the Visitor Center you will want to see our new awarding winning film entitled "Shadows of Time." The film is 20-minutes long and plays on the hour and half hour throughout the day. Also take the time to explore our museum and peruse our bookstore.
Trying to plan your visit? Questions? Comments? Stop at the Visitor Center where our park staff will be happy to accommodate you. The Bryce Canyon Visitor Center is open everyday except New Year's Day, Thanksgiving day and, Christmas day. During the summer our hours are 8 a.m. to 8 p.m. with reduced hours during the winter.
Trails
None
Services
Restrooms, drinking water, pay phone, backcountry permits and first aid

Did You Know?

Mountain Lions have one of the highest hunting success ratios of any predator. 80% of the time they chase a deer, the deer ends up as food. At Bryce Canyon, Mountain Lions are most often seen in winter. More...