Full Moon Hikes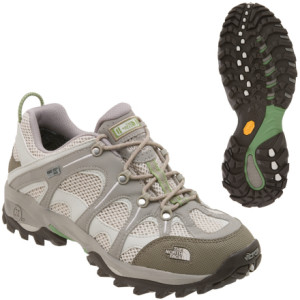 You are cordially invited to celebrate Bryce Canyon's thrilling Night Life! Check your calendar and join us for these uniquely-Bryce experiences. During full moons, (1-2 consecutive nights each month), when the mix of shadows and moonlight cause the hoodoos to take on spooky personalities, we offer 1-2 mile-long moonlit hikes. These hikes descend down into the canyon along steep and rocky trails. Due to the nature of this special activity all participants must agree to the following rules.
RULES:
Children under age 6 are not permitted.
Hiking boots or hiking shoes (lug soles) are required for your safety and the safety of the Park Staff and other Participant(s).
Flashlights, headlamps are not allowed. Flash photography may be permitted under key restrictions.
Bring drinking water and jacket (evenings are cool and cold).
Due to steep and rocky trails this activity is not wheelchair accessible.
NOTE: Tickets are not required for full-moon hikes and is "Open" to the public. No Sign-up required but come to or call the Visitor Center for time, location & further details. Hikes will be self guided with Park Rangers stationed at certain points on the trail so you can go at your own pace.
Watch this Video to Learn More about Bryce Canyon Full Moon Hikes.

We would love to offer these programs more than 2-3 times a month but unfortunately, as the name of the activity implies, we don't have that kind of control.... over Moon, Earth, & Sun. :-). Please check at the visitor center for up-to-date information.
Day / Time
Date
2015 Full Moon Hikes (Visit or call the Visitor Center for tour location and details. 435.834.5322)
Sun 5:00 pm

Jan 4
Open to Public. On Snowshoes (snowpack permitting)
Tues 5:30 pm
Feb 3
Open to Public. On Snowshoes (snowpack permitting)
Thurs 6:15 pm
March 5
Open to Public. On Snowshoes (snowpack permitting)
Sat 7:50 pm
April 4
Open to Public.
Sun 7:35 pm
May 3
Open to Public.
Mon 8:35 pm
May 4
Open to Public.
Tues 8:20 pm
June 2
Open to Public.
Wed 9:15 pm
June 3
Open to Public.
Wed 8:00 pm
July 1
Open to Public
Thur 8:50 pm
July 2
Open to Public
Sat 7:30 pm
Aug 29
Open to Public
Sun 8:15 pm
Aug 30
Open to Public
Sun 6:45 pm
Sept 27
Open to Public
Mon 7:25 pm
Sept 28
Open to Public
Tues 6:40 pm
Oct 27
Open to Public
Wed 7:25 pm
Oct 28
Open to Public
Wed 5:00 pm
Nov 25
Open to Public. To Be Determined. Call ahead for status.
Fri 5:55 pm
Dec 26
Open to Public.

To Be Determined. Call ahead for status.

_____________
________________________
______________________________________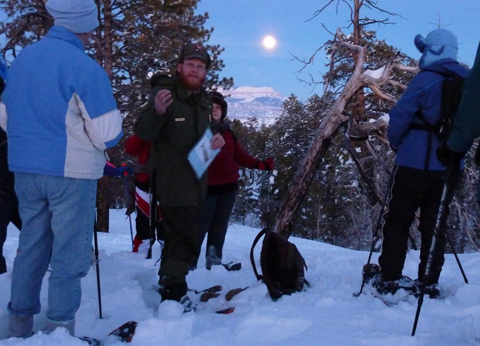 NPS photo by Kevin Poe
WINTER FULL MOON HIKES ON SNOWSHOES!
During Winter full moons November - March (when snow depth exceeds 12") we offer our full moon hikes as a snowshoe activity. Snowshoes and poles are provided FREE of charge, but you must dress warmly and provide your own waterproof hiking boots (hiking shoes NOT acceptable) or better yet snow-boots. Full Moon Snow Shoe hikes are free and open to the public (Weather Permitting). Come visit the Visitor Center or call us at 435.834.4747 for additional information. (see schedule above).