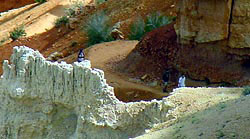 nps
Preservation Message:
Unfortunately hoodoos don't last very long. The same processes that create hoodoos are equally aggressive and intent on their destruction. The average rate of erosion is calculated at 2-4 feet (.6-1.3 m) every 100 years. So it is that Bryce Canyon, as we know it, will not always be here. As the canyon continues to erode to the west it will eventually capture (perhaps 3 million years from now) the watershed of the East Fork of the Sevier River. Once this river flows through the Bryce Amphitheater it will dominate the erosional pattern, replacing hoodoos with a "V" shaped canyon and steep cliff walls typical of the weathering and erosional patterns created by flowing water. Indeed a foreshadowing of this fate can be observed in Water Canyon while hiking the Mossy Cave Trail. For over 100 years a diversion canal has been taking a portion of the East Fork of the Sevier River through this section of the park and already it's easy to see the changes the flowing water has created.
While we can't stop this inevitable fate, humans can help to preserve the Park's existing hoodoos by keeping to the park trail system. Believe it or not, just walking up to the base of a hoodoo will shorten its life span as your tracks weaken the clay slopes that protect the hoodoo's foundations. Staying on established trails ensures that erosion will not prematurely destroy the hoodoos that millions of people come from all over the world to see.
When and where to see at Bryce:
Most people only view hoodoos from the overlooks along the canyon rim; however the most rewarding way to see them is by hiking the trails that descend into the canyon. Those with limited time often choose to experience only the Navajo Loop Trail. While this is the most popular trail because it features slot canyons, you can see a lot more hoodoos by adding the Queen's Garden Trail for a combined loop of 2.9 miles (4.5 km) called the Navajo/Queen's Garden Combination. Even more adventurous souls find full-moon hikes to be an especially exciting way to view the hoodoos.
Hoodoo colors are more vibrant after a rainstorm. Viewing hoodoos in the winter is especially rewarding. Not only does melting snow enrich the colors but the blanket of white adds another dimension to the beauty under the crisp blue sky.