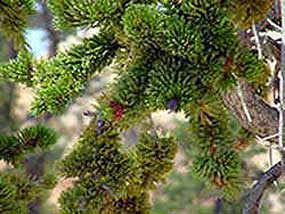 Plant Lore:

The Bristlecone Pine was first documented by F. Cruetzfeldt, a botanist with the Pacific Railway, in 1853. The group he was with was looking for a new route over the Rocky Mountains, and found themselves in the Cochetopa pass in Colorado (now, Colorado State Hwy 114). Cruetzfeldt wrote in his journal that the area was "covered with a scanty growth of pine". He collected one branch and no cones, (bad botanical sample). Later, as the group moved into eastern Utah, they were attacked by a group of Ute Indians, and the entire party was killed. One of the accounts claimed that by the time the bodies were found, most had already been eaten by wolves. This is now known as the "Gunnison Massacre" after the leader of the group. Needless to say, the branch sample and all of Cruetzfeldt's notes were lost. Governor Brigham Young, having heard the rumors of the massacre, was able to procure the sample and all of Cruetzfeldt's notes back from the Ute tribe, and had them sent East where the species was classified.
The Bristlecone Pine was "rediscovered" by Dr. Edmund Schulman in the mid 1950s. In fact, it was his party that found and dated the "Methuselah" tree. He reported his findings to the National Geographic Society in 1958. This article brought much fame to the "Schulman grove" and it was set aside by the USFS.
The tree is used heavily in the science of dendrochronology, where tree rings of known ages are compared against environmental conditions and a history of previous environmental conditions is recorded. Because the trees are thousands of years old, we can understand what the environment was like thousands of years ago, just by comparing the tree rings.
The tree is also noteworthy because the needles stay on the limb for over 40 years, unlike most other pines, which shed their needles every few years. This is important, because the tree can go through periods when it does not grow at all. At such high elevations (8,000-11,000 ft), there are years when the environment does not thaw. This prevents the tree from putting on a new year's growth (both foliage and cambium rings.) By keeping its needles longer, the tree doesn't lose all of its foliage without having the opportunity to grow new needles. It also means that a tree with 900 obvious rings may be significantly older.
Great longevity is also insured by highly resinous wood which helps prevent the trees from desiccating in the hot, dry temperatures. This resin also helps shield the bristlecones from insects and harmful bacteria that prey upon many other, more fragile trees.