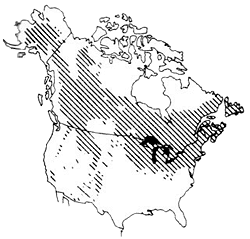 When and where to see at Bryce:
The above-ground portions of Quaking Aspens are few and far between at Bryce Canyon National Park. Historic photographs show that these kinds of forest used to be much more common. The aggressive suppression of forest fires, (natural or otherwise) has allowed spruce and fir forests to overshadow the once common aspen groves. Using prescribed fires to burn away key portions of the spruce and fir forests will allow aspen to quickly return to their former glory as a keystone species that assures the survival of many other kinds of plants and animals. Look for little pockets of aspen along the scenic drive at the southern end of the park and also tucked underneath the canyon rim between Sunset and Sunrise Points.
Further Reading:

Buchanan, Hayle 1992.
Wildflowers of Southwestern Utah.
Bryce Canyon Natural History Association. Bryce Canyon, Utah
Lanner, Ron. & Rasmuss, Christine. 1988.
Trees of the Great Basin: a Natural History.
University of Nevada Press
Little, Elbert L.
2001 National Audubon Society Field Guide to Trees - Western Region.
Random House Inc. New York, NY
Stuckey, Martha & Palmer, George. 1998.
Western Trees: A Field Guide.
Falcon Publishing, Inc. Helena, MT