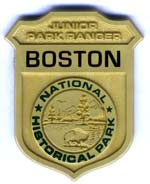 Become a Junior Ranger! There are two ways to get a Junior Ranger handbook. When you come to the park, find a Boston National Historical Park Visitors Center. A park ranger, or volunteer, can give you a copy of the Junior Ranger Handbook. If you can't wait to get your hands on one, you can download a copy.
There are two Junior Ranger handbooks available. One is for the downtown portion of the Freedom Trail and the other is for the Charlestown portion. When you complete the activities in either book, bring the completed handbook to a Visitor Center, the Bunker Hill Monument, or the Bunker Hill Museum. A park ranger will present you with a Junior Ranger badge. If both handbooks are completed you
will receive a badge designating you as a Master Junior Ranger.
Enjoy and we hope to see you at our park!