Your Safety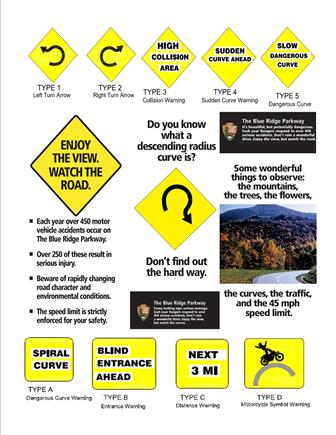 Your safety is our top priority as you visit the Blue Ridge Parkway. You can always dial 1-800-PARKWATCH in the case of an emergency. Here are a few items that will make your visit enjoyable and safe while you're here:
While hiking - Wear good hiking shoes, stay on designated trails to avoid ticks and snakes, and carry a few emergency supplies along with adequate water. Be aware of any approaching weather systems and avoid ridgetops during thunderstorms. Let someone know where you are headed and when you plan to return.
While driving - Obey the posted speed limit, drive especially slow during rainy or foggy conditions, and watch out for wildlife. Be aware of tight, spiraling curves that help make the Parkway special and unique, but can catch the unobservant motorists (or motorcyclist) off guard. It is always a good idea to carry a few emergency supplies in the trunk of your car.
Driving large recreational vehicles - Large RVs are popular means of travel on the Parkway, but be advised that going up or down steep grades can be slow. Pull over often to let faster moving traffic get by. You may want to check the heights of the Parkway's twenty-six tunnels (mostly south of Asheville) to ensure that your rig will negotiate all of them.
While bicycling - Wear high visibility clothing, helmet and the required reflectors. Ride single file and well to the right of the lane. Especially during rainy or foggy conditions, watch out for automobiles.


Did You Know?

There are twenty six tunnels on the Blue Ridge Parkway, but only one in Virginia. This is primarily because the North Carolina mountains are more rugged than those in Virginia.