Road Closures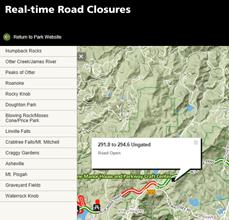 The Blue Ridge Parkway Road Closure Map provides real time road closure/condition information. This feature may be particularly helpful when winter weather conditions force temporary and fast-changing closures. Be sure to check the map before embarking on your Parkway adventure.
In addition, the following long-term, maintenance related closures are currently in effect.
MILEPOST 270 - 281 - Due to a significant road failure, a closure is in effect at Deep Gap in NC north of U.S. 421 at Milepost 270 and Old Highway 421 at Milepost 281. Please use U.S. 421 and Old Hwy. 421 around the closure area.
MILEPOST 355-376 - After several weather and contract related delays, work has begun on a section of Blue Ridge Parkway closed from Milepost 376 at Ox Creek Road to Milepost 355, near the entrance to Mt. Mitchell State Park. This project will stabilize a failed slope just north of Tanbark Ridge Tunnel, at Milepost 374 and should be completed by late spring.
Did You Know?

The Blue Ridge Parkway travels through twenty nine counties and contributes $902 million each year in tourism revenue to North Carolina and Virginia.