Weather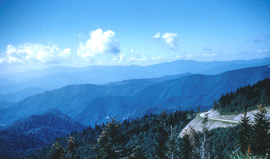 NPS photo
As spring comes to the Blue Ridge and the threat of snow begins to pass, visitors can still expect cooler temperatures than are normal in the lower elevations. Some frosty mornings may linger into early May in the high elevations.
The Parkway varies in elevation from just under 650 feet at Virginia's James River to over 6,000 feet south of Mount Pisgah in North Carolina. Obviously, the weather can vary tremendously as well. Check your favorite weather-related web site for the Parkway town closest to where you plan to visit.
It is always a good idea to carry an extra jacket or blanket and a few emergency supplies in the car. Be aware of weather conditions and approaching weather systems.


Did You Know?

The Blue Ridge Parkway was designed as a recreational motor road, connecting Great Smoky Mountains and Shenandoah National Parks.