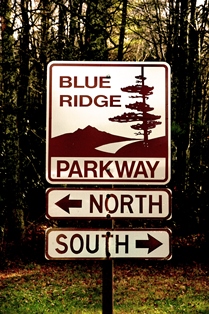 The Parkway connects Shenandoah National Park near Waynesboro, VA (Milepost 0) with Great Smoky Mountains National Park near Cherokee, NC (Milepost 469). There are entrances and exits at all major federal and state highways and part of a Parkway experience is getting into the towns and communities of the region. Asheville and Boone, NC and Roanoke, VA are the largest cities along the way. In Virginia, Interstates 64, 81, and 77 all have directions for accessing the Parkway. The same is true for Interstates 40 and 26 in North Carolina.
If you are traveling here in an alternative fuel vehicle, thanks for helping us reduce greenhouse gas emissions and reduce petroleum use. Plan your trip with the Department of Energy's "Alternative Fueling Station Locator."
Check the FREQUENTLY ASKED QUESTIONS section of the website for answers to some of the things you may be wondering about.