The National Park Service preserves and interprets a diverse cross-section of our nation's cultural and natural resources. This is especially true in the Big South Fork National River and Recreation Area. The area has a long human history spanning the last ten thousand years. From the prehistoric Paleo Indians to the coal miners of recent time, Big South Fork is an area with a rich cultural tapestry.
Big South Fork was even touched by events of the Civil War. Several stories emerge about people and places in this area. With the 150th Commemoration of the Civil War, the National Park Service has put together a collection of trading cards that explain events within the parks. Big South Fork has three trading cards in the collection. You can view these below. Other parks have their cards posted at National Park Service's Civil War to Civil Rights Trading Card Program.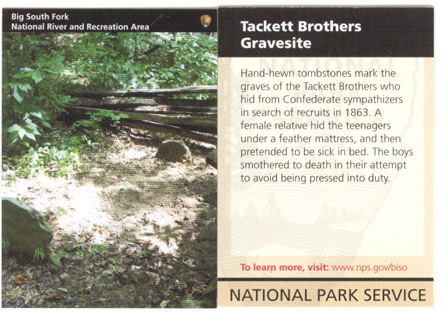 Tackett Brothers Gravesite
Teenage boys were in demand by both Union and Confederate soldiers who were recruiting youth to join their ranks. Families were constantly on the look-out for approaching strangers who might kidnap boys judged to be old enough to become soldiers. If men were off fighting the war, women, children and the elderly were left to defend their homes from marauders. People living in remote areas were especially vulnerable. Neighbors were so far away that by the time they knew something was wrong, it was too late to help.
The Tackett brothers were two teenagers who lived with an elderly female relative in a cabin near the head of Station Camp Creek. One day in 1863, the woman saw Confederate sympathizers approaching. She had to think fast so they wouldn't find the boys. The teens were told to hide under the feather tick and be very quiet. The woman then took to the bed, pretending to be too sick to move. The soldiers left her alone, fearing they would catch her illness. As soon as they were gone, she got out of bed and threw back the covers. It was too late. The boys had smothered to death under the feather mattress.
Their gravesites are marked with hand-hewn tombstones. The area is still remote today, located near Charit Creek Lodge.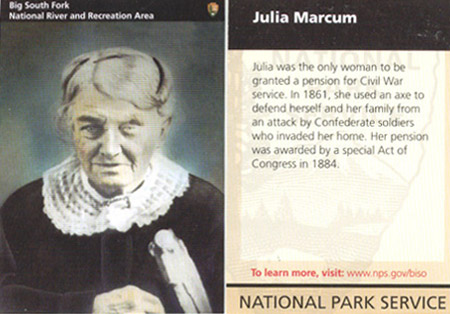 Julia Marcum
The Civil War affected the everyday lives of many people. Lots of families lived on farms in isolated places. Many people just wanted to be left alone, but homeowners had to be on the watch for strangers. Marauding confederate or union soldiers would kill people, kidnap teenage boys to make soldiers out of them, steal food and livestock, and destroy crops and burn homes.
Julia Marcum was sixteen years old when she lived with her family on a farm near Huntsville, Tennessee. One evening, her father who was a union sympathizer, hid in the barn when he heard that confederate soldiers were in the area. On her way upstairs to get candles, Julia grabbed an ax to defend herself if necessary. A soldier followed her up the steps. Julia hacked at him with the ax. The soldier stabbed and blinded her in an eye with his bayonet then shot her at close range, hitting and destroying a finger. When her father heard the commotion, he stormed into the house and shot and killed the soldier.
When word of the incident reached a unit of confederate soldiers who were stationed nearby, they sent their physician to dress her wounds. Julia healed well enough to teach school for a number of years following the war. Eventually, the war wounds festered to the point that she could no longer work. Julia petitioned congress to grant her a pension since she was unable to teach due to her wounds. In 1884, by a special Act of Congress, Julia Marcum became the only woman to receive a pension for active civil war duty. She received thirty-five dollars a month. Julia became a member of the Grand Army of the Republic, an organization whose members fought on the union side during the war. Because she so bravely defended her family against marauding confederate soldiers, Julia was considered to be a union soldier. She lived to be in her nineties.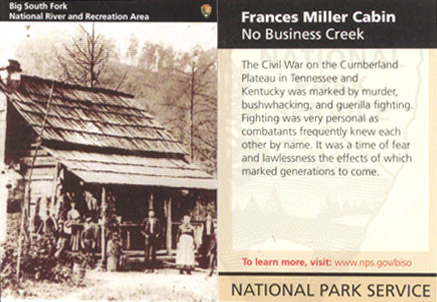 More information posted soon.