Boat Tours, Paddle-craft Rentals and Select Conveniences Temporarily Unavailable

Glass-bottom, snorkel, diving and island boat tours, and rentals for canoes and other paddle-craft, are temporarily unavailable. The park is working to resolve the issue as soon as possible and regrets the inconvenience. Limited snack items are available.
Things To Do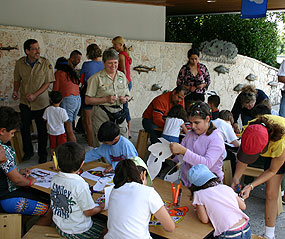 Canoe trips, Ranger talks, Family Fun Fest, underwater videos, displays and art exhibits... Biscayne National Park offers a variety of ways to help you get to know and enjoy the natural and cultural wonders of your national park.


Did You Know?

In 2001, scientists taking a plant inventory in Biscayne National Park discovered a population of semaphore pricklypear cactus, one of the world's rarest plants. Previously known as only 9 plants in the lower Florida Keys, the new population numbered 570 plants...over 60 times the previous count.