Boat Tours, Paddle-craft Rentals and Select Conveniences Temporarily Unavailable

Glass-bottom, snorkel, diving and island boat tours, and rentals for canoes and other paddle-craft, are temporarily unavailable. The park is working to resolve the issue as soon as possible and regrets the inconvenience. Limited snack items are available.
Elliott Key Harbor and Campground Closed Until Further Notice

Contractors began work to repair damaged boardwalks and marina at Elliott Key and the visitor center grounds. The marina and campground at Elliott Key are closed until the repairs are complete. University Dock on Elliott Key remains open for day use only. More »
Indoor Activities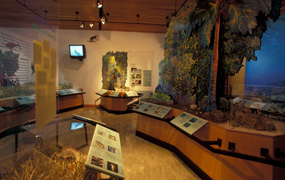 NPS/Kodak Photo by Neal Montanus
The Dante Fascell Visitor Center offers a number of indoor options. A museum highlights the park's four ecosystems with exhibits, sound and video. The Gallery highlights the works of contemporary local artists inspired by the park's resources. Several films highlight various aspects of the park, and
Biscayne National Park: A Spectrum of Life
is an excellent introduction. Kids and adults will find plenty to discover in the Touch Table, and kids can get started on earning a Junior Ranger badge. Ask about additional indoor educational opportunities at the information desk.


Did You Know?

If you added up all the different kinds of vertebrates (fish, amphibians, reptiles, birds and mammals) in Grand Canyon, Yellowstone or Yosemite, you still wouldn't have the number of fish found in Biscayne National Park. You'll have to look closely to see many of them, including this grass porgy.