The Dante Fascell Visitor Center Gallery
Artists have always played a crucial role in increasing awareness and inspiring stewardship of National Parks. Opened in 2002, the Dante Fascell Visitor Center gallery provides a space where contemporary artists, inspired by the beauty of Biscayne National Park and South Florida, can show their work. Past shows have included color and black-and-white photography, oil, acrylic, pastel and watercolor paintings, drawings, fiber, ceramics, collage and sculpture. Shows typically include a "Meet the Artist" reception, made possible by our sponsors.
The gallery is open from 10:00 to 5:00 every day.
For more information, please call the Dante Fascell Visitor Center at 305-230-1144 x555. You can subscribe to the Gallery's e-mail list by sending a message
here
with the words ART LIST in the subject line.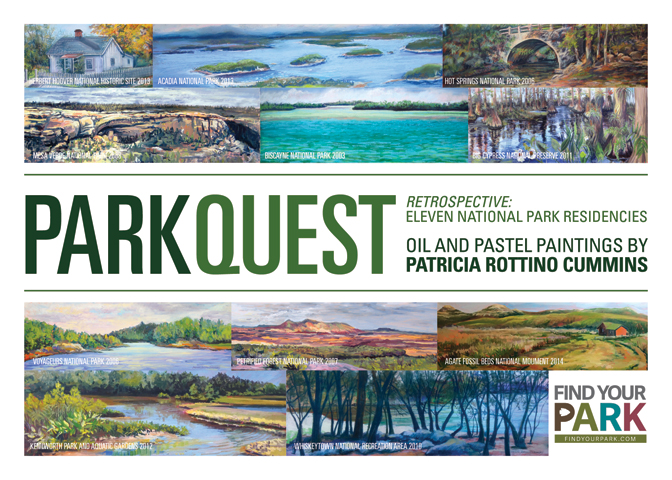 ParkQuest is the current show in Biscayne National Park's Dante Fascell Visitor Center Gallery. It features twenty-eight paintings by Patricia Rottino Cummins created during eleven national park residencies from coast to coast. The free exhibit is open from 9:00 am to 5:00 pm daily through February 28, 2016. The public is invited to meet the artist during a full-moon reception on Sunday, January 24 from 5:00 – 7:00 pm.
Growing up in New York City, Pat developed an early appreciation for the local park, Forest Park, in Queens, parts of which were designed by Frederick Law Olmsted. It was there that she first sketched en plein air (in the open air) and attended The Forest Park School of Art. After relocating to South Florida, she raised a family, traveled and exposed her children to many national parks during school vacations. In 2004, Pat opened a studio at ArtSouth in Homestead and created her first national park-inspired paintings there. Rangers at Biscayne National Park inspired her to begin her National Park Artist-in-Residence quest, and she has since been invited to paint and reside at eleven national parks. "This exhibit is the visual journal of my plein air residency paintings," says the recently-retired Dade County Public Schools art teacher. After 36 years of teaching with the philosophy of being a productive role model for her students and proving that hard work gets rewarded, she retired from the Miami-Dade Public Schools last year. She received numerous honors and awards, including having one of her national park paintings currently on exhibition in the US Embassy in Niger.
ParkQuest is part of the park's Community Artists Program, started in 1997 as an outlet for the works of artists who are inspired by the beauty of Biscayne National Park. The program is made possible by the South Florida National Parks Trust through the generosity of Sedano's Supermarkets and the Miami-Dade County Division of Cultural Affairs and the Cultural Affairs Council, the Miami-Dade County Mayor and Board of County Commissioners.