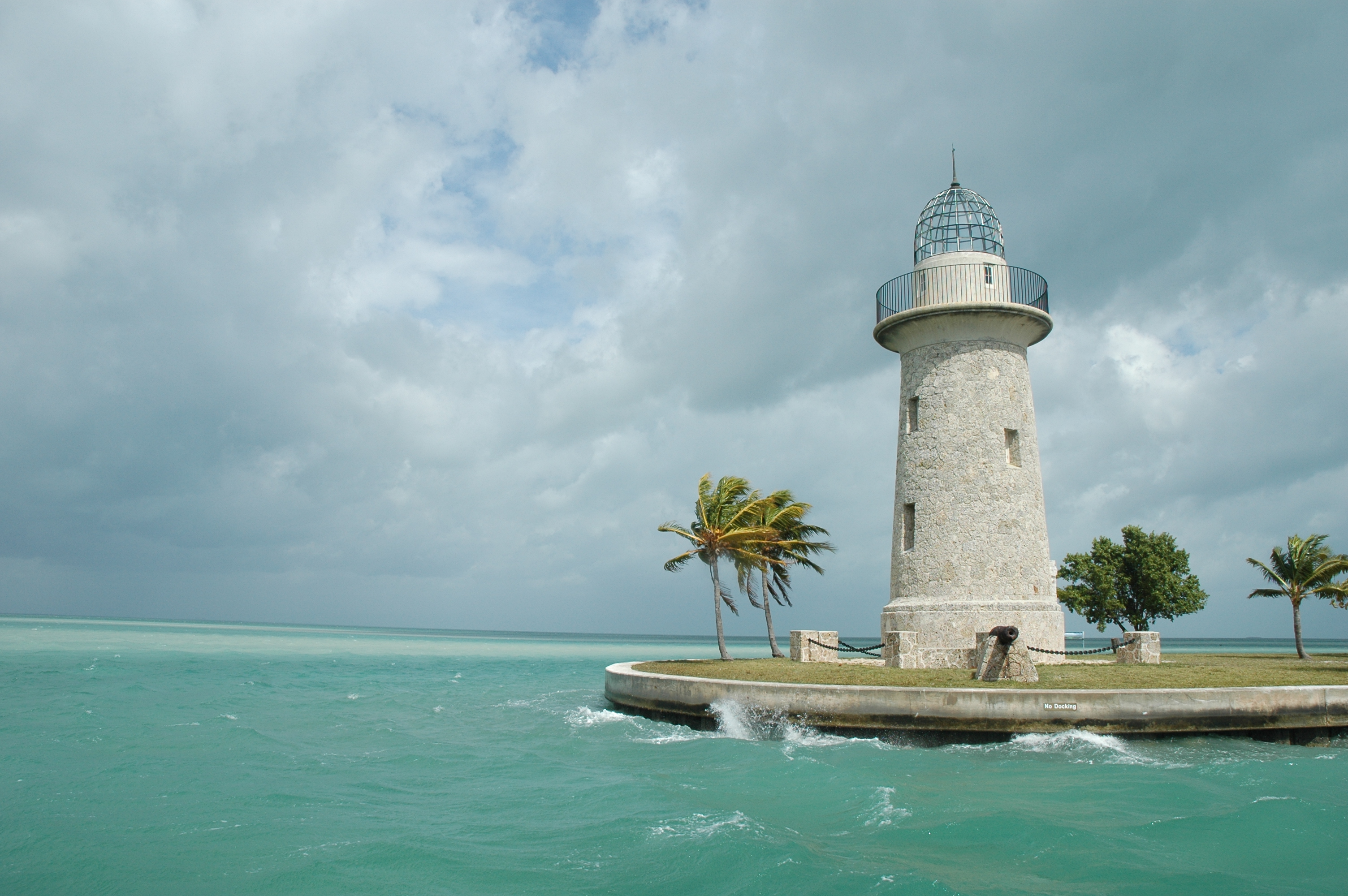 NPS image by Matt Johnson
The park's most popular island provides visitors with a variety of facilities. There is a campground with picnic tables and barbecue grills. Additional picnic tables and barbecue grills are located on the south side of the harbor near the open-air pavilion. Saltwater toilets are available, but since there is no freshwater or electricity on the island, there are no sinks or showers. A half-mile hiking trail starts just east of the restrooms. The trail continues to the south end of the island curving back north and emerging near the pavilion and picnic area.
The island's crowning glory, and Biscayne National Park's de facto symbol, is the 65-foot ornamental lighthouse built by Mark Honeywell, one of the island's former owners, in the 1930s. The lighthouse is open intermittently whenever park staff or volunteers are on the island. The observation deck provides a fantastic view of the islands, bay, ocean, and the Miami, Key Biscayne, and Miami Beach skylines.
Things to Remember
Mosquitoes inhabit this island year round.
There are no sales facilities of any kind.
Trash pickup is not provided, and campers and visitors must pack out all their trash.
The harbor entrance at low tide is approximately four feet. Any deep draft vessel requiring 3 ½ or more feet of water should exercise extreme caution in this area. Low tide is calculated by adding one hour and forty-three minutes to the time that the tide is low at Miami's Government Cut. High tide is plus one hour twenty-four minutes from the time that the tide is high at the Miami's Government Cut.
Boca Chita harbor has a cleated bulkhead that is the only designated area where boats may dock. Boats may raft no more than two deep. Pets are not permitted on the island nor on boats in the harbor.
An overnight docking fee of $25 is assessed between 6 p.m. and 6 a.m. Use of the tenting area is included in the docking fee (including two tents and up to six people). Register at the automated kiosk next to the edge of the harbor.