Picnicking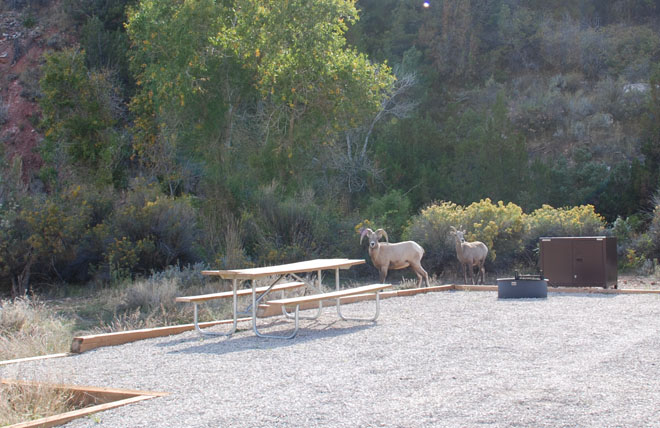 Picnic Facilities can be found in the following areas:
North District: M-K Hill (family friendly with playgrounds), Bighorn Head Gate Trail, Ok-A-Beh Marina, 3 Mile Access. Yellowtail Dam Visitor Center (open during summer).
South District: Cal S. Taggart Bighorn Canyon Visitor Center Lawn, Horseshoe Bend(family friendly with playgrounds), Barry's Landing and Ewing-Snell Ranch
Bighorn Lake: Black Canyon, Dayboard 9, Medicine Creek
Please remember that feeding bears and other wildlife is illegal. The black bear symbolizes the wildness of the Bighorn Canyon area. But bears are dying unnecessarily due to improper disposal of garbage or illegal feeding by visitors. A bear's remarkable sense of smell may lead it to human foods, such as a picnicker's cooler, garbage left in the open, or food scraps thrown on the ground or left in the grill.

A bear that has discovered human food or garbage will eventually become day-active and leave the safety of the backcountry. It may panhandle along roadsides and be killed by a car or it may injure a visitor and have to be euthanized. Please do your part to help protect black bears and other wildlife in Bighorn Canyon. Clean your picnic area, including the grill and the ground around the table, thoroughly after your meal.
Did You Know?

The first 13 miles of the Bighorn River below Yellowtail Dam is the most fished area in the state of Montana, often attracting over 100,000 anglers each year. Surveys show that 75 percent of summer anglers are from out of state. More...