Getting Around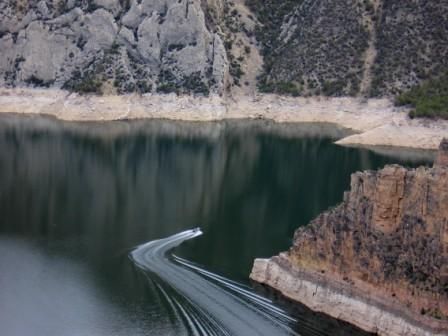 Sharon Genaux
By Boat
Since there are no roads connecting the two ends, traveling by boat is the only way to get directly from one end to the other. The North end of Bighorn Canyon is surrounded by the Crow Indian Reservation. Please respect their land and do not go above the high water mark, except in areas that are open to travel.
To access Bighorn Lake there are boat ramps located in the North District at Ok-A-Beh. In the South District at Barry's Landing, Horseshoe Bend, Kane Ramp, and South Causeway.

For a Bighorn Lake Map click here...
For Current Launch Ramp and Road Conditions click here...
By Car
North District: On the edge of Fort Smith, Montana. Approximately 40 miles south of Hardin and 90 miles south of Billings is the entrance to the North District of Bighorn Canyon National Recreation Area.
South District: Approximately 5 miles north of Lovell, Wyoming, 50 miles east of Cody, Wyoming and 90 miles south of Billings, Montana is the entrance to the South District of Bighorn Canyon National Recreation Area.
For a PDF Area Map click here...
Bicycling
Bicycling is permitted only on established public roads and in parking areas. For mountain biking opportunities on the South District of the park, ask park rangers for suggestions on nearby areas.

Lights and reflectors are required after dark.
We strongly suggest that safety helmets be worn by all bicyclists.
Park roads are narrow and winding and the scenery can be distracting.
Public Transportation
There is no public transportation service available in Bighorn Canyon NRA.


Did You Know?

The arch-type Yellowtail Dam, named for Robert Yellowtail, rises 525 feet and generates enough power for 124,000 households, equivalent to about one-third of all the households in Montana. More...