Extreme Water Shortage

Extreme water shortage throughout park. Visitors are limited to 5 gallons per day, and are encouraged to conserve further when possible. Please consider bringing your own water to the park.
Primitive Roadside Campsite— Ernst Tinaja
Campsite Specifics
Ernst Tinaja (ET-1) can accommodate two vehicles, 10 people, no horses.
Directions
Ernst Tinaja 1 (ET-1) is located near the southern end of Old Ore Road, 4.5 miles north of the paved road. A short, 0.2 mile access road leads to ET-1. A short distance beyond the site is the trailhead.
Road Conditions
Old Ore Road is maintained for high clearance vehicles only. Following rains and heavy use, the road becomes very rutted and requires 4-wheel drive. Always ask a park ranger for current road conditions.
Views
Great views of the Chisos and nearby hills.
Cautions
Ernst Tinaja is a popular day-use attraction. Given its close proximity to this campsite, do not leave valuables unattended for long periods of time. Expect frequent passing vehicles.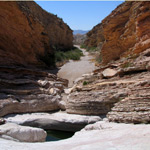 NPS Photo/Jennette Jurado
Remarks
This popuiar site sits at the mouth of a limestone canyon noted for three things: vibrant orange swirling striations in the rocks, fossils of giant oysters, and the Ernst tinaja itself, a 13-foot, natural rock pool, also known as a 'kettle.' Further up canyon are opportunities for bouldering.
A short distance beyond the campsite is the parking area for the trailhead to Ernst Tinaja. It is about 1/3 mile up the canyon to the tinaja. Do not drink from, or swim in, the tinaja. It is a natural trap for animals when the water level is low as it is often impossible to climb out of. This canyon flash floods during heavy rain events.
Did You Know?

Sotol is a plant found in the middle elevations of Big Bend National Park. The sotol plant is a crowded cluster of ribbonlike leaves up to three feet long, with sawtooth margins. In April and May, the plants produce a stalk 10-20 feet high which gives sotol a second name - Desert Candle. More...