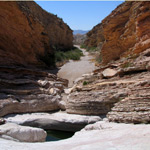 NPS Photo/Jennette Jurado
Remarks
This popular site sits at the mouth of a limestone canyon noted for three things: vibrant orange swirling striations in the rocks, fossils of giant oysters, and the Ernst tinaja itself, a 13-foot, natural rock pool, also known as a 'kettle.' Further up canyon are opportunities for bouldering.
A short distance beyond the campsite is the parking area for the trailhead to Ernst Tinaja. It is about 1/3 mile up the canyon to the tinaja. Do not drink from, or swim in, the tinaja. It is a natural trap for animals when the water level is low as it is often impossible to climb out of. This canyon flash floods during heavy rain events.