Directions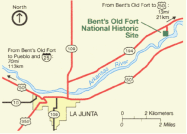 NPS
Getting There

Car
The park is accessed via U.S. Highway 50 and Highway 194. From La Junta, Colorado on U.S. Highway 50, take Highway 109 north 1 mile to Highway 194, then east on Highway 194 six miles to the fort. From Las Animas, Colorado, on U.S. Highway 50, take Highway 194 west 13 miles. Set your GPS to 35110 State Highway 194 E., La Junta, CO.
Plane
There are commercial airlines to Pueblo (75 miles) and Colorado Springs (110 miles).

Train
Amtrak trains have a stop in La Junta. Bent's Old Fort National Historic Site is located eight miles east of La Junta and 15 miles west of Las Animas on Colorado State Highway 194 in Southeast Colorado.
Bus
TNM&O bus stops in Rocky Ford, Colorado, 16 miles west of Bent's Old Fort NHS.


Mileage
Denver 190
Colorado Springs 110
Pueblo 70
Santa Fe, New Mexico 280
Mesa Verde National Park 340
Great Sand Dunes National Park 160
Capulin Volcano National Monument 135
Rocky Mountain National Park 240


Did You Know?
The first white woman didn't arrive at Bent's Fort until 1846, 13 years after its establishment. Unlike the Oregon Trail, the Santa Fe Trail was basically a freight road, men driving freight wagons. That started to change after the Mexican War when New Mexico became U.S. territory.