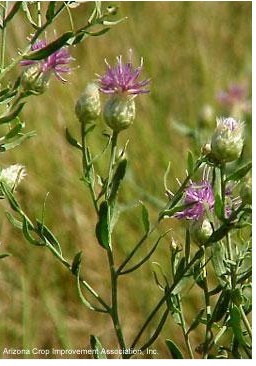 (courtesy of Arizona Crop Improvement Association Inc.)
The park's exotic weed control program addresses tamarisk, whitetop, Russian knapweed, Canada thistle, kochia, bindweed, Curly dock, and Russian thistle. There are 39 other assorted exotic plants which currently have minor impact on the historic site.
We are developing our baseline data sets for natural resources through the Inventory and Monitoring (I&M) initiative. The historic site is part of the Southern Plains Inventory and Monitoring Network as well as the Chihuahuan Desert/Shortgrass Prairie Exotic Plant Management Team.