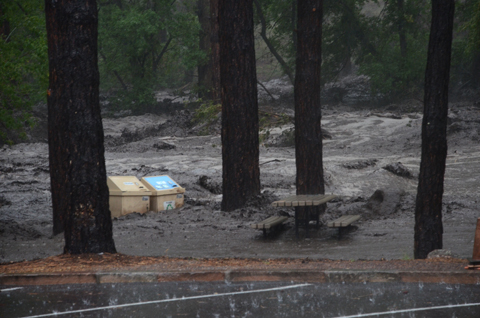 Photo by Sally King
Parking Lot Island
Situated on the island in the middle of the parking lot this area is shaded and offers several picnic tables, trash cans, and a bear box storage unit.
Cottonwood Picnic Area
Cottonwood Picnic Area is located just a short walk across Frijoles Creek from the visitor center in Frijoles Canyon. Situated next to the creek, the picnic area was heavily impacted by recent flooding. Some picnic tables have been dug from the debris and are available for use. Self- contained stoves are permitted but no open campfires or barbeque grills.
Juniper Campground
Juniper Campground is open to picnicking until 4:00 PM daily, after that a overnight camping fee will be charged. This area is located on the mesatop within the Pinon-Juniper woodland and can be reached by turning right at the first road past the park entrance station. Picnickers should pick a spot not already occupied by campers. Fires are permitted in the grate provided. Each campground spot has a picnic table, barbeque grill, and a parking space.