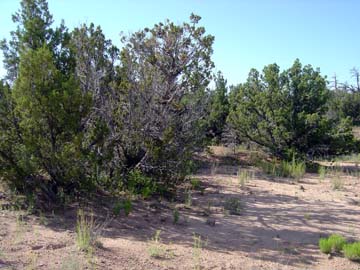 NPS Photo by Stella Carroll
The types of plants found along the trail are typical of pinon-juniper woodlands. Plants adapted to dry conditions grow slow and are not very tall. Ponderosa pines, more common at higher, wetter locations are usually found here only near arroyos (drainages) where more moisture is available.
Juniper, pinon, rabbitbrush, yucca, four-winged saltbush, and mountain mahogany are common along this trail. Ancestral Pueblo people depended on many of these plants for food, medicine, dyes, spices, and tools. Some of these plants are still used for the same purposes in contemporary pueblos.