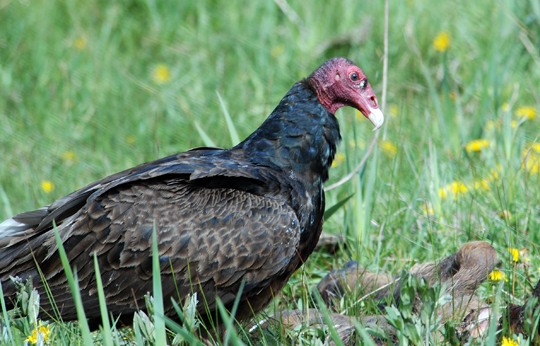 Photo by Sally King
Follow Your Nose to Turkey Vulture Food
If it's dead and it stinks, turkey vultures will love it. The turkey vulture staple - although it may turn our stomachs - is carrion, the more rotten the better. Although most birds have little or no sense of smell, turkey vultures have a keen sense of smell. In fact, they rely almost entirely upon their noses to find food. If you ever see a turkey vulture up-close, one of their unique facial qualities is that in profile you can look through their nostrils and see sky on the other side. This open-to-the-air arrangement allows even the smallest particles of scent to be detected.
Doing what comes naturally, turkey vultures rid their ecosystems of potentially dangerous decaying organic material. Unlike humans, turkey vultures appear to be totally unaffected by botulism.